In March we saw a tweet from someone who had quoted a short extract from this study, which referenced a 'psychology service' used by Cafcass in England, and gave some statistics associated with it: namely that :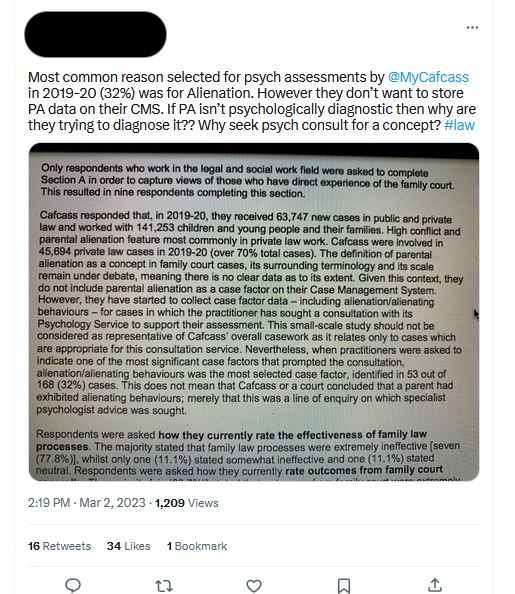 'alienation/alienating behaviours was the most selected case factor, identified in 53 out of 168 (32%) cases. This does not mean that Cafcass or a court concluded that a parent had exhibited alienating behaviours; merely that this was a line of enquiry on which specialist psychologist advice was sought.'
The tweeter mistakenly (but understandably) took this to be a reference to applications for the appointment of an expert under Part 25 of the Family Procedure Rules. It was only because one of our practising lawyer members had stumbled across the 'psychology service' by chance that we realised this was a misunderstanding and relates to something quite different.
In the course of efforts to try to explain the misunderstanding and correct the error, we realised there was almost no public information about this service.
This prompted a Freedom of Information request to which we now have a response. We have drafted a request for clarification of a number of matters and requesting an internal review, because we don't think all of our questions have been fully answered but in the meantime we now publish the information we do have. We would be very interested to hear from our readers how much they knew about this service – and what they think about the information available.
What information is available already?
First, here is what was already in the public domain. We could only find two references on the Cafcass website about the service.
There is a brief reference in the Cafcass Annual Report for 2016 telling us that a Cafcass National Psychology Service has been in place since at least 2017:
"…Innovative practice, such as embedding our National Psychology Service to support practitioners to enhance their expertise and improve the quality of recommendations through the provision of 1:1 consultations with an accredited clinical psychologist, has also led to improvements in our casework. We are exploring how we can further gather service user and stakeholder feedback about the quality of our work and its impact on outcomes for children to better monitor the value we add for children and to help inform future improvements."
'National' means English here, because Cafcass Cymru is a separate body not contracted to the psychology service and Cafcass doesn't work in NI or Scotland either.
Secondly, under the title 'What are Cafcass guidelines and training on alienating behaviours?' on the Cafcass website we see this:
"Further information can be found on our website here.

The training we have which covers alienating behaviours is our Child Impact Assessment Framework Training (or CIAF training for short). There is guidance on the CIAF on the Cafcass website here.

There is also access to a psychology service to discuss cases with a qualified psychologist if it is felt necessary by a Family Court Advisor in a case where alienating behaviours are present."
There are no other hits for 'psychology service' on the Cafcass site at all. When we searched last month we found no relevant policies or guidance on the site.
However, we noticed from google searches that the service was open for tender.
The description was as follows :
"This tender is to agree a contract with a specialist psychologist service with a track record in the provision of case consultations and in providing learning and development to social work professionals in child and family social work. Areas of expertise should include risk assessment and management. The aim of the service is to support practitioners in identifying and assessing risk associated with psychological processes within and between individuals which may be impacting adversely on children, including: attachment patterns, trauma, mental health, harmful conflict/parental alienation, Child Sexual Exploitation and radicalisation."
The value of the contract is £50,000 (less than in previous cycles) and it is to run from Jun 23 to 25.
The service was previously run by Dr Amy McKee, who is an HCPC registered clinical psychologist. At the time of the original public procurement exercise the description of the service being tendered for did not include 'attachment patterns, trauma, mental health, harmful conflict/parental alienation', but had been restricted to CSE and radicalisation.
Since 2019 the service, now expanded to include 'attachment patterns, trauma, mental health, harmful conflict/parental alienation' has been run by Kingsham Consultancy Ltd.
Kingsham Consultancy Ltd is a company which was founded in 2016 and has a non-functional website. Dr McKee is the sole director, and the last filed accounts show the company as having one employee. Dr McKee's CV is here.
The only other info we can find on the service is in this short video.
The FOI Request
The FOI request sought more information on how the service worked. Here are the questions we asked Cafcass and the responses provided.
I note that a contract to provide the Cafcass specialist psychology service is currently out to tender.
1. Please provide the name of the contractor that has been providing the Cafcass national psychology service since April 2021.
Cafcass can advise the name of the contractor is Kinghams Consultancy (sic – we presume this means Kingsham)
2. Please confirm the number of individual psychologists who fulfil the contract.
Cafcass can advise the number of psychologists are 3
3. Please provide details of any minimum qualifications / experience that psychologists are expected to hold before working through this service.
Cafcass can advise that they must be qualified to degree level as a Child Psychologist with at least 5 years' experience
4. Please provide any internal policy or procedure dealing with conflict of interest for example where a psychologist operating through the national psychology service might also be instructed as a part 25 expert.
Cafcass can advise that there have been no known conflicts of interest. Please see below update from provider:

One of the doctors providing the service does not see that there would be any conflict of interest as for the psych consult service we do not get any identifying details on the referral forms and discuss a case from the practitioner's perspective for only an hour so certainly not expert evidence or anywhere near that. I would consider that instruction as a part 25 expert is an entirely separate process so wouldn't consider it to be a conflict of interest. If there was ever an occasion where the doctor felt there was a conflict then her professional obligations would be that she would have to declare that when receiving the instructions and the onus would be on her as an individual.
5. Please provide a copy of current guidance given to Cafcass officers on:
Please see the National Psychology Service Guidance Document.
a. consulting the psychology service in respect of individual cases
Cafcass can advise that the Guidance for Practice Staff as below:

• Consultations can be booked for both private and public law cases. Consultations may also be booked for non-specific case discussions, e.g. for practice development or training.

• Referral forms for case related consultations need to be authorised by Service Managers to ensure that the case is appropriate to bring to a consultation. An appropriate case might include complex risk factors, as opposed to features covered in case discussions.

• Referral forms should be returned at least three days in advance of the consultation slot so that the psychologist can review it ahead of the consultation. Short notice referrals maybe accepted if a slot is available, or a cancellation arises. For non-case specific consultations, please complete a referral form and enter N/A for case specific questions.
b. the extent to which evidence before the court may or should be shared with staff in the psychology service and any arrangements relating to consent or judicial approval for the same
Cafcass can advise that the psychologists will not have access to the Cafcass case file, they will only have the information contained in your referral.
c. case recordings of discussions by the psychology service and or the officer seeking advice
Cafcass can advise that the outcome of the consultation should be recorded by the FCA in the same manner as case-related situational supervision, in the contact log within the child's record. As part of the agreed contract with the psychologists, they will not provide notes from the meeting.
d. attributing any contribution made by the psychology service to their assessment and report
Cafcass can advise that the psychologists do not provide an expert assessment but specialist case supervision. As such there should be no reference to the use of the service in the report to court, in the same way that you currently do not report situational supervision discussions.
e. informing the court and the parties of the fact of the psychology service's involvement in their assessment, report, and recommendations, and informing them of the specific involvement (including providing records relating to the same)
Please see response above – the psychology service does not provide an expert assessment of the family; the consultation between the practitioner and the psychologist is to support the practitioners' assessment and to help them to adopt a psychological perspective within their practice.
f. whether staff in the psychology service have been required to attend court to give evidence and, if so, how often this has happened since 2017
Cafcass can advise that the psychology consultation service does not have access to full information about the family circumstances or to court papers and therefore would not be equipped to provide evidence. They provide support to practitioners as with situational supervision.
6. Please provide a copy of Cafcass policy on data collection and sharing that applies to this contract, and any policy relating to analysis of the impact of the psychology service on practice and outcomes.
Cafcass can advise we conduct regular reviews with the lead psychologist and provide quarterly reports to OMT. As part of this, we gain feedback from the lead psychologist and from practitioners about how they have used the consultation and what impact this has had for their practice.
7. In the event that the tender is awarded prior to completion of this request please also provide answers to Q1-3 both as at the time of request and the time of responding.
Not Applicable.
What next?
You can read the response and the Cafcass policy (much of which is pasted into the answers) here.
We have compiled some requests for clarification around questions 3, 4 and 5. We will update this post or write a fresh one when that clarification is received. UPDATE: here is the link to the second post: https://transparencyproject.org.uk/national-psychology-service-still-in-the-dark/
In the meantime, we'd be very interested to know from parents, lawyers and others – by comment on this post, by email or tweet:
Did you know this service existed?
What are your views about it?
What else do you want to know?
We have a small favour to ask! 

The Transparency Project is a registered charity in England & Wales run largely by volunteers who also have full-time jobs. We're working hard to secure extra funding so that we can keep making family justice clearer for all who use the court and work within it.
Our legal bloggers take time out at their own expense to attend courts and to write up hearings.
We'd be really grateful if you were able to help us by making a small one-off (or regular!) donation through our Just Giving page.
Thanks for reading!