In one of his last speeches before retiring as the head of the judiciary of England & Wales, Lord Burnett of Maldon congratulated the courts on the way technology had enhanced open justice through live streaming, media access to remote hearings, and the broadcasting of sentencing remarks. But his boasts may have had something of a hollow ring to those who regularly struggle with under-resourced courts and baffling bureaucratic obstructions in their efforts to observe hearings which they are theoretically entitled to access.
The Lord Chief Justice's speech, Open Justice Today,  was delivered on 10 September 2023 at the Commonwealth Judges and Magistrates Conference 2023. It is a very good speech. It sets out the history of open justice (dating back to ancient times), its nature and the rationales underpinning it, and how it has changed with the benefit of technology in recent years. Indeed, if it had been delivered before 7 September, this speech would have made a very good response to the recent consultation on open justice launched by the Ministry of Justice (other responses to which have been collected on the  Courts and Tribunals Observers' Network website). It echoes some of the responses he has made during his time in office to questions from the Justice select committee and other parliamentary committees and in his various press conferences.
But as he recognises in his opening paragraph — framing the speech in the context of the Latimer House Guidelines for the Commonwealth on Good Practice Governing Relations between the Executive, Parliament and the Judiciary — there are principles such as the separation of powers (or by implication, open justice) that "may look well on paper and sound well in speeches" but ultimately must lie in the "hearts and minds" of people. What can we do, he asks, not only to keep that principle in the hearts and minds of each nation, but, going further, "how can we open up justice today"?
History
His potted history of open justice cites Jeremy Bentham on publicity as the "very soul of justice" and traces its origins back at least to Ancient Greece, where the trial of Socrates in 399 BC was conducted before a jury of 501 Athenians and a crowd of spectators on a hill. Among those observing and reporting it were Plato and Xenophon.
In pre-Norman England, attendance by freemen at moot courts was compulsory. Though public attendance later became permissive, requirement for justice to be conducted orally in public remained a well established principle as the common law developed, its constitutional status recognised in the leading authority of Scott v Scott [1913] UKHL 2; [1913] AC 417, and reflected in international conventions such as article 6 of the ECHR.
While publicity may occasionally give way to the right to privacy, the interests of children, the safety of individuals or national security, "any limitations imposed on the principle are no more than strictly necessary to protect the [competing] public interest". Here, Lord Burnett sounds a warning note:
"There is a developing chasm between the common law and civilian world in the approach to anonymisation. The common law dislikes it because it erodes open justice but the routine anonymisation of parties and witnesses is becoming more commonplace in Europe."
Conceding that "Anonymisation is a large subject in itself" (and perhaps recognising that his Commonwealth audience are mostly from common law jurisdictions), he suggests that "That is a topic for another day".
Core elements
The four pillars of open justice, in Lord Burnett's opinion, are:
There must be provision for the public to attend civil and criminal trials while they are taking place.
Those present must be able to discuss, to debate, and to criticise what was said and done by the parties and the judge, including the judgment.
Documents submitted to the court and used within the proceedings should, presumptively, be available to the public and press – and be republished.
Participants' details must be made public (subject to well recognised exceptions).
In relation to this last requirement, he stresses the importance of naming the judge in all cases (again, something not always observed in civil law jurisdictions), as a way of ensuring proper scrutiny of the exercise of power by the state. "A judiciary that was hidden from public view is one that could all too easily and improperly become, in Lord Atkin's famous words, 'more executive minded than the executive'."
The present day
Lord Burnett notes that in recent times justice has become less local, and less well attended and reported, than in the past. The decline of local newspapers has substantially reduced the reporting of court proceedings, and "many cases are reported by journalists who do not have deep familiarity with court processes or the law".
He suggests that the judiciary can help, for example by publishing more accessible judgments or providing press summaries. But technology can also help, by opening up the opportunity for public and media to see what is going on via remote access. Improved access can also come from broadcasting hearings.
How far should the broadcasting of proceedings go? Despite sounding a note of caution – "We have seen the broadcasting of some criminal trials around the world become live soap opera …" – he feels that in this jurisdiction it has been a resounding success. Having given his unequivocal support to the broadcasting of sentencing remarks soon after his appointment in 2017, he may have been frustrated over how long it has taken to implement, the first broadcast not taking place until July 22. Nevertheless, "it has become clear that this innovation has been a success, and successful beyond our expectations".
This is the aspect of his speech that has been picked up by the media, including the fact that it has helped reassure the public that judges are not as out of touch as they might have seemed (at least in the media's portrayal of them), and also younger and more diverse.
He feels there has been a recognition that broadcasting and making available recordings of hearings "undoubtedly provides more open justice than merely enabling members of the public and press to attend hearings". He suggests the test to be applied, when considering the livestreaming or broadcasting of proceedings, is "why not?"
He concludes by recalling that "sunlight is the best disinfectant" and observing that open justice is the "ultimate guarantee" of all the other principles underpinning fair trials and the proper administration of justice.
Comment
Whilst he may not have gone full Panglossian on the benefits of broadcasting and the openness of our justice, the Lord Chief Justice does seem to believe that it is all going swimmingly. Sadly, though, that has not been the experience of regular court observers and reporters.
The speech reveals certain biases and habits of thought which appear to be common among the senior or managerial judiciary, who are perhaps less aware of what is actually going on on the ground.
Although he is right to say the "media act on behalf of the public; scrutinising and reporting what goes on in court on their behalf", the coverage provided by them is inevitably filtered by commercial viability and public interest or "newsworthyness". Other court observers are not so constrained, yet time and again the judiciary seem to proceed on the assumption that media access is sufficient to guarantee the maintenance of open justice, and that other observers somehow need to justify their wish to do so.
This bias is apparent in his discussion, in paras 27 and 28, of the benefits of providing remote access. "But there is no doubt," he says, "that the use of video-platforms has enabled properly interested individuals and media representatives, local, national and international, to attend and report on hearings." I have emphasised the phrase "properly interested individuals" because it imports an assumption that, if you are not the media, you need to explain and justify your reasons for wanting to attend. (I wonder if Plato and Xenophon were challenged on their desire to observe the trial of Socrates, as they joined that crowd on the Athenian hill.)
Lord Burnett goes on to say that
"the regime, adjusted during Covid, enables remote attendance including by journalists for most cases. Our courts do not have the resources to enable that facility routinely. But in cases of public interest arrangements have been made to allow journalists to log into a hearing remotely. In some very high-profile cases scores or hundreds have done so which has resulted in more expansive and, dare I say it, more accurate reporting."
Again, this is all splendid, for the news consuming public, but it does seem to prioritise the needs of the media in providing a sort of open justice at one remove (via their necessarily selective reporting) rather than the actual live experience of open justice for those who would like to witness it at first hand. If technology can be harnessed, it should be available to all, routinely if possible. That should be the ambition, even if not the interim reality.
By way of comparison, it has been very interesting to watch, and see blogged and tweeted comments on, the live evidence being given to the Post Office Horizon IT inquiry. Of course it is reported in the press, but the fact that it can be watched as a live broadcast provides a fullness and immediacy of exposure that traditional media reporting cannot match.
The media are given special status in other ways, too. Access to certain hearings and information is confined to "accredited journalists", to the exclusion of other observers, despite Lord Burnett's recognition that many of them "do not have deep familiarity with court processes or the law". Accreditation is governed solely by who a reporter works for, not whether they have had any special training to ensure they understand the rules of contempt of court and the statutory reporting restrictions applying to cases involving children, etc. (Many of course do, but the point is that they are not required to demonstrate this.)
Accreditation nevertheless entitles reporters to attend private family hearings and youth court hearings otherwise closed to the public, and to see advance listing information not available to other court observers. In the family courts, access to private hearings (but not as yet to the listing information) has been accorded to "duly authorised lawyers", who are basically lawyers or legal academics blogging on other people's cases, with the benefit of a legal training that enables them to negotiate the pitfalls of reporting restrictions.
Neither form of accreditation is necessarily proof against the failure of court administrators or judges' clerks to provide links for remote access in time to observe particular hearings, sometimes despite giving days or weeks of advance notice. See this recent thread by the journalist Louise Tickle: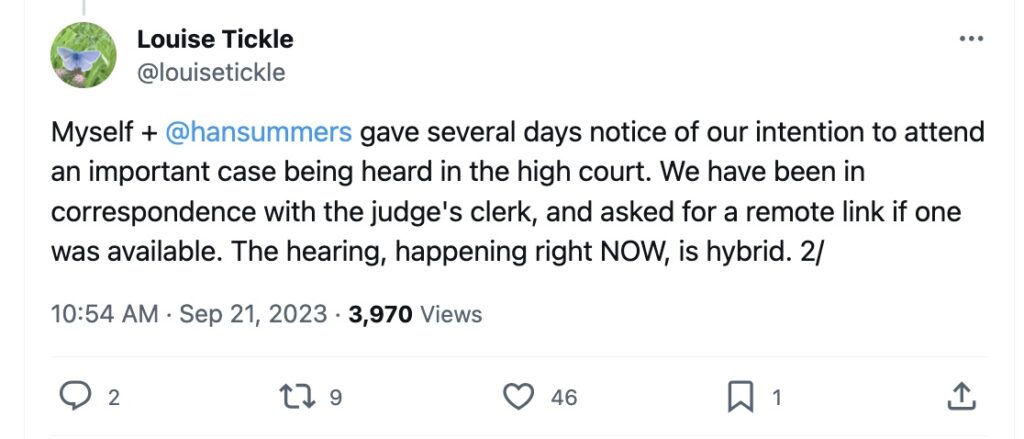 Still more so for those without such accreditation, like Celia Kitzinger of the Open Justice Court of Protection Project, who wrote about her frustrations in a post entitled, wearily, Just another failure of open justice…
As that post demonstrates, there is also a problem in that any system according access to those with some form of accreditation, or by way of some kind of pilot scheme, is liable to give rise to a sort of flipside obstacle, where those without such accreditation, or in a court not covered by the pilot, are treated as disentitled to access. This is what seems to have happened with the Reporting Pilot (sometimes called the Transparency Pilot) launched pursuant to the President of the Family Division's current Transparency Review: non-pilot courts have taken it upon themselves to block the access previously accorded to accredited reporters, as Julie Doughty explained here: Media & bloggers observing hearings
In short, the system isn't working, and even the schemes designed to circumvent the non-working of the system, aren't working either. It is possible that the President of the Family Division, Sir Andrew McFarlane, is aware that it isn't all going swimmingly, not least because his Transparency Review has enjoyed the backing and voluntary participation of lots of people, but not much to show for itself after two years of assorted committee meetings: see The Transparency Review, reviewed. The Lord Chief Justice barely mentioned the review in his latest report to Parliament, and his plea in this speech to open up justice even more rather overlooks the areas in which, at present, it isn't open yet.
---
This post first appeared on the Courts and Tribunals Observers' Network .
Featured image: RCJ by Greg Callus, reproduced with kind permission